5 Things to consider when picking the right canopy for your ute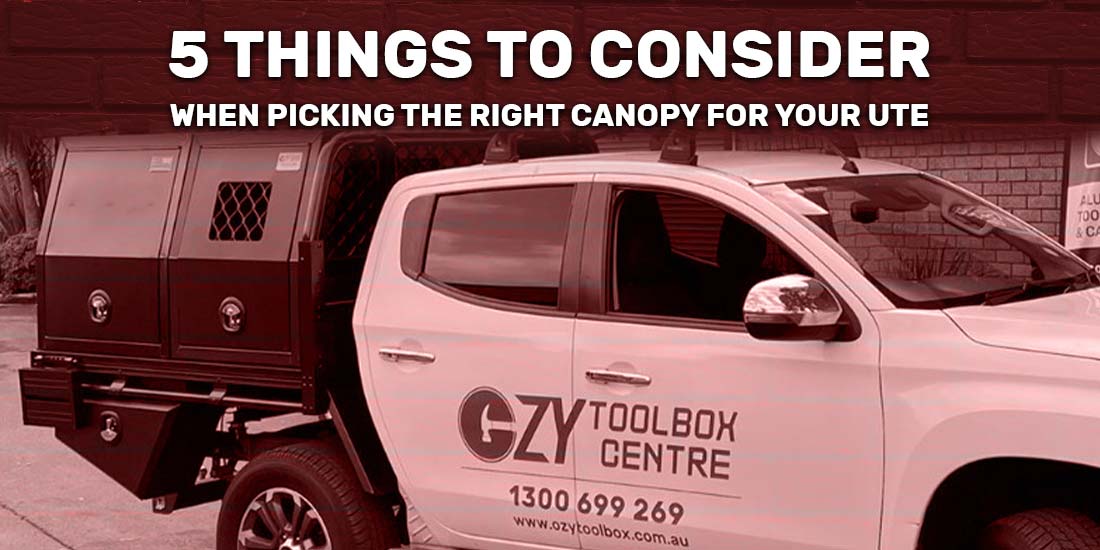 Are you a professional who requires securing tools or equipment but don't want to buy a van? A utility vehicle with a canopy attached may be your solution. How do you select an appropriate Ute canopy, and more importantly, what is required to ensure it works effectively?
1. The right canopy style.
Selecting the right Ute canopy is very important, and in doing so, will reduce future costs. You first need to identify what you require the canopy to do, i.e., to suit your current and future needs. There are various types of canopies that are available: full, part, and large canopies. Full canopies are enclosed boxes containing three doors, ensuring easy access.
The full aluminium canopies at OZY are an attractive choice for people who want the option to install shelving and carry weight above. They are sealed in a way to assure minimum contact with external effects. Keep in mind, though, whatever you add to the back of your ute is the weight. The weight of each option affects your GVM and your available payload, which will determine what you can load into and also tow with the vehicle.
2. Consider external parts.
Outer parts of a Ute contain numerous utilities, these need to be fitted before anything else. The requirement for these external accessories can impact the type of canopy you require and if you need roof racks. It would be your decision to install gas bottle restraints, under tray boxes, roof racks, spare tyres, and tray roller drawers.
3. Consider internal accessories.
The internal accessories are just as essential as the external accessories. Typical Ute canopy accessories include mesh dividers, fire extinguishers, or load-resistant track kits. These need to be considered when selecting a Ute canopy.
4. Are electrical components needed?
Sometimes electrical components in a Ute canopy are necessary and essential in keeping things in check. You may require electrical fittings such as light locks, emergency lights, dual battery savers, safety cameras, or inverters. Solid canopies can reduce total rearward visibility so that a rear-mounted camera installation may be required.
5. Suspension upgrades.
The canopy and any additions can impact the overall weight of the vehicle. While Ute canopies are reliable and popular, something to consider is adding an extra suspension spring. The installation of the springs assures minimal damage to the goods that are carried. This decision remains with the owner. Summary: Aluminium canopies are the most commonly used canopies. These are the crème de la crème when it comes to Ute equipment storage, work, camping, and touring.
Aluminium canopies are lightweight but strong, easy to design without the added weight, have great water and dust sealing abilities, and look great! With a Ute canopy, you also have the option to remove the canopy from the tray using jacks, meaning you can leave it at home or base camp and go exploring. Ozy Toolbox Centre has a range of high-quality and affordable aluminium canopies that are guaranteed to meet your needs. Click the link or give us a call at 1300 699 269 to explore our range:
Author: Dean Peechiari Date Posted: 18 February 2021